Episcopal Relief & Development Responds to the COVID-19 Pandemic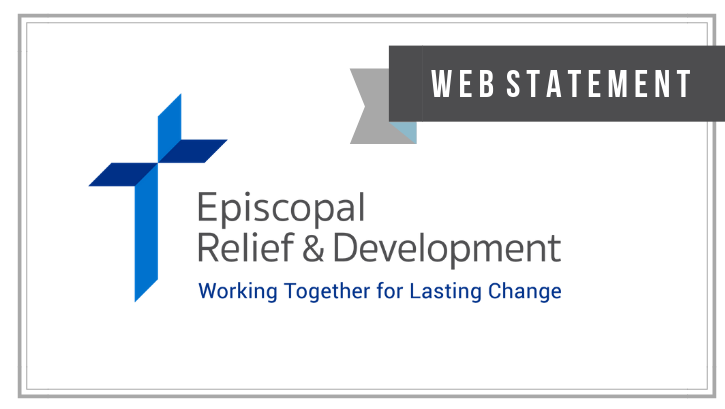 Episcopal Relief & Development Responds to the COVID-19 Pandemic
Web Statement
March 24, 2020
Episcopal Relief & Development is taking steps to ensure the health and safety of all employees, partners and program participants in response to the novel coronavirus pandemic (COVID-19). 
Our team is creating resources for partners to enable them to continue to serve their communities during this time, and we are also adjusting programming to allow for physical distancing recommended by health officials. We recognize that the COVID-19 pandemic is ongoing and fluid and has created challenges for partners, individuals and communities in the United States and around the world, and we remain committed to supporting program partners in their work to serve vulnerable communities.
In support of the recommendations by local, state and federal authorities, and to protect the health of employees, we have responded in the following ways: 
Canceling or postponing all domestic and international travel until May 15, 2020.

Closing the New York City office out of an abundance of caution as of March 18, 2020.

Closing the Ghana regional office on March 23, 2020.

Setting up systems and protocols for all employees to telecommute.
While Episcopal Relief & Development staff may not be in the office, our team is continuing to work remotely to support program partners both domestically in the United States and around the world. 
The US Disaster Program is responding to the pandemic by equipping Episcopal dioceses, congregations and individuals to know the facts, combat fear, and continue to offer worship, resources and services to the most vulnerable in ways that minimize risk and maintain safety. We have created resources for a faith-based response to epidemics, including Bible studies and on-going weekly webinars to help address the challenges created by the virus and the physical distancing that is recommended by health experts. 
Episcopal Relief & Development is also in contact with both domestic and international partners to provide support as partners respond to the virus and adjust existing programming. For the safety of staff, partners and program participants, our teams are reevaluating how to safely conduct programs while still achieving measurable results. Many current programs depend on in-person contact and have developed protocols to provide the physical distancing needed at this time.
The COVID-19 Pandemic Response Fund was established to enable the organization to continue to respond to the pandemic. Donations to this fund support the creation of additional critical resources to help local communities both immediately and in the long run, and will ensure the most up-to-date and accurate information about the disease is shared through ongoing trainings on personal and community preparedness as the crisis evolves. This fund will also support partners as they respond to the needs of high-risk communities who are most vulnerable to COVID-19.  
"During this time of uncertainty, Episcopal Relief & Development remains committed to caring for our staff and partners," said Robert W. Radtke, President & CEO, Episcopal Relief & Development. "We will continue to adapt and respond to meet the needs of the most vulnerable throughout the COVID-19 pandemic."
For additional resources and tools for a faith-based response to epidemics, click here. Donations to the COVID-19 Pandemic Response Fund to support our response can be made online or through the mail to Episcopal Relief & Development, Attn: Katie Heiston, PO Box 7058, Merrifield, VA 22116-7058, where it will be processed by our mail house.
For over 75 years, Episcopal Relief & Development has been working together with supporters and partners for lasting change around the world. Each year the organization facilitates healthier, more fulfilling lives for more than 3 million people struggling with hunger, poverty, disaster and disease. Inspired by Jesus' words in Matthew 25, Episcopal Relief & Development leverages the expertise and resources of Anglican and other partners to deliver measurable and sustainable change in three signature program areas: Women, Children and Climate.